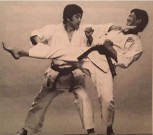 Hirokazu Kanazawa
en legend har gått ur tiden.
Som grundare av Shotokan,
och med 10 dan inom stilen, har Kanazawa betytt mycket för många genom åren.
Läs mer om hans liv och och livsverk.

Hirokazu Kanazawa, biografi
1931 Born in Iwate, Japan
1956 Graduated from Takushoku University and joined Japan Karate Association
1957 Kumite Champion at the 1st JKA All Japan Championship Tournament
1958 Kumite and Kata Champion at the 2nd JKA All Japan Championship
1961 Chief Instructor in Hawaii, USA Go-Dan(5thDan), JKA
1966 Chief Instructor of Karate Union of Great Britain?Roku-Dan(6thDan), JKA
1967 Chief Instructor of JKA Europe & German Karate Federating
1968 General Manager of the European team at the World Championship in Mexico
1971 Nana-Dan(7thDan), JKA?Director & General Manager of International Division of JKA International Section Shihan at Musashikogyo, Kantogakuin and Kitasato Universities
1972 General Manager of the Japanese Team at the 2nd WUKO Championship in Paris, France
1973 Nana-Dan(7th Dan), All Japan Karate Federation
1976 Referee 1st IAKF World Championship in Los Angeles Referee JKA Asia-Oceania Championship in Hong Kong
1977 Left JKA to Establish of Shotokan Karatedo International
1978 Hachi-Dan(8thDan), International Martial Arts Federation
1980 Referee 5th WUKO World Championship in Madrid
1981 Referee 1st World games in Santa Clara, California USA
1983 Chairman, 1st SKIF World Championship in Tokyo, Japan
1985 Chairman, 2nd SKIF World Championship in Dusseldorf, West Germany
1988 Kyu-Dan(9thDan), International Martial Arts Federation Chairman, 3rd SKIF World Championship in Utsunomiya, Japan
1991 Chairman, 4th SKIF World Championship in Mexico-City, Mexico
1994 Chairman, 5th SKIF World Championship in Yokohama, Japan
1997 Chairman, 6th SKIF World Championship in Milan, Italy
1998 Hachi-Dan(8th Dan) SKIF
2000 Chairman, 7th SKIF World Championship in Bali, Indonesia
2002 Jyu-Dan(10th Dan), International Martial Arts Federation Present Kancho, Supreme Instructor and President of Shotokan Karatedo International Federation (Specified Non Profit Organization) International Referee, Japan Karate-Do Federation Coach, Japan association of Physical Education
[2003] [Chairman, 8th SKIF World Championship in Durban, South Africa]
(källa)

Vila i frid Kanazawa Soke.

14/3
JKA Cup Landskrona
.
20-24/7
JKA Swedens sommarläger
.
23-25/10
JKA VM, Japan
.
För mer info - se även JKAs kalender.

29/2 Karate Masters.
14/3 Svenska Katapokalen.
18/4 Swedish Karate Open.
25/4 Elit Karate Cup.
23/5 Stockholm Karate Cup.
30/5 Distriktsmästerskap ÖNKF, Vindeln.
För mer info - se även Karateförbundets egen
kalender
.


GSKK är medlemmar i JKA Sweden,
Övre Norrlands Karateförbund,
samt Svenska Karateförbundet.

Detta borgar för en hög standard och garanterar en träning som är förenlig med svensk och internationell praxis.


...sen har vi dessutom väldigt trevligt ihop: